Workshops
WORKSHOPS & EVENTS
With over 80 workshops presented during the event, we ensure that class size will be small and intimate and you will have plenty of one on one attention from instructors. Our sex educators, relationship experts, spiritual teachers, and BDSM masters will be sharing their experience and wisdom in a safe, interactive environment on a range of topics.

Scheduled Classes
Write to Programming@darkodyssey.com to contribute suggestions for upcoming Dark Odyssey events, including Surrender, Fusion, Summer Camp, and Winter Fire.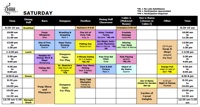 Check out the amazing packed weekend of Performances, Workshops and Special Events!