FAQ
Q: Where is the Host Hotel Located?
A: Our hotel is in Downtown Washington DC. It is a first class hotel near Union Station and the Capitol Building.
Q: Do we have the whole hotel?
A: Yes! … The entire host hotel is ours. We will have all the guest rooms and all the ballrooms. No church groups, no teen volleyballers, the whole place is ours!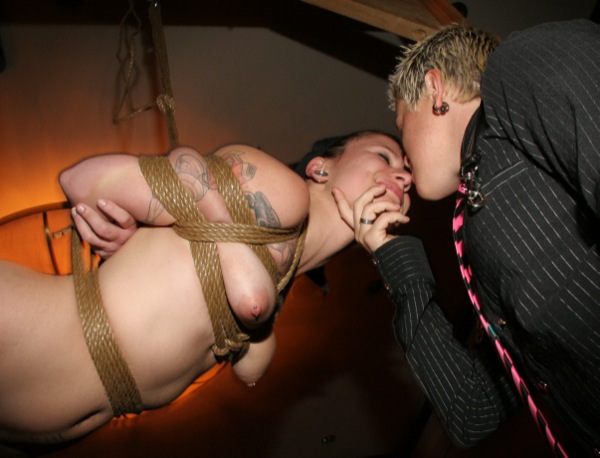 Q: Is there an OverFlow Hotel?
A: Yes, we have 2 overflow hotels each about a block away. There is only a 2 night minimum stay at the overflow hotels. The rates vary by hotel. You may book your overflow hotel room during registration just like the host hotel. When the host hotel sells out, people registered for rooms at the overflow hotel will automatically be on the waiting list for a host hotel room.
Q: The Overflow Playspace Returns!!!
A: The overflow playspace is back! The renovations are complete and Overflow hotel 2 is back in business and will be hosting a great playspace for us on the 2nd floor. The space will be open for play Friday from 6pm-3am, Saturday Noon-3am, and Sunday Noon-3am.
Q: I'm flying into DC. What airport should I choose?
A: There are 3 airports in the Washington DC area. Personally, we would pick the one with the cheapest rates that fit your schedule.
Reagan National Airport (DCA) is the closest airport to the district. You can jump on the Metro to a station which is 3 blocks from the hotel.
Baltimore Washington International (BWI) is located about 40 minutes north of the district and is typically the "bargain" airport of the region. You can get on a Marc or Amtrak train at BWI which will take you straight to Union Station…There you can jump on the DC metro system which takes you very close to the hotel.
Dulles International Airport(IAD) is about 30 minutes west of the district. It is not served by the metro or light rail and you would have to take a taxi, shuttle or have someone pick you up. It is however, a very nice airport with these bizarre people movers that look like something out of a sci-fi movie that take you from terminal to terminal. A lot of Winter Fire attendees live in Virginia around the airport and might be able to give you a lift.
Q: How much will it cost to park my car?
A: The main drawback of doing the convention in downtown DC at a first class hotel is the cost of parking. The hotel has valet parking only and it costs ~$40 a day. Now before you have a heart attack we have a few options. The good news is that there is parking at a major public lot just a few blocks away for $18 a day.
Q: I just want to hook up. Are there any loose women there?
A: Sadly, we were actually asked this question.
Well my politically incorrect "friend" the answer is…there may be… but probably not for you. Winter Fire is primarily an educational and social event. We attract an amazing cross section of people and are very proud of our diversity and the comfortable environment we create for those who are often made to feel "out of place" elsewhere. We are doctors and lawyers, artists and activists, husbands and wives, you and me. We are a truly a pansexual community; heterosexual, bisexual, gay, lesbian, transgender and more.
Many of us are already deeply involved in one or more aspects of alternative sexuality and want to explore other areas or share our knowledge with those on the journey. Most of our attendees have an interest in one or more or the following: BDSM/leather, sex, polyamory, open relationships and swinging, Eastern Philosophies, Earth-based spirituality, and Tantra.
Q: Ok, I am not an insensitive dolt, but I am new… is this convention for me?
A: Absolutely, Winter Fire was designed as an entry point to the alternative lifestyle community. It's purpose is to give you a taste of the many different flavors of human sexuality. Where other events simply focus on a singular aspect like BDSM or the Lifestyle, we are the sampler version… a taste of sexuality… if we may. Many of our classes are introductory level so you can start at the beginning and walk away armed with new skills and ideas. We ask everyone to attend a short Winter Fire 101 class where we talk about etiquette and how to make the most of your weekend. If you are curious about alternate sexuality, have an open mind, and a good attitude this is the right place for you. Singles of any gender are welcome… assholes and wankers are not and we reserve the right to ask anyone who makes other attendees uncomfortable to leave.
Q: What is the dress code?
A: You must be street legal when walking the hallways, in the lobby,elevators, restaurant and lobby bar area, etc of the hotel. Most people dress casually during the day for workshops. At night we expect to see you in your fetish finest. There will NOT be any bizarre dress code restrictions. Cross dressing is perfectly acceptable. T-shirts with cute sayings are great. Men in kilts turn us on. Outlandish costumes will be applauded. But you MUST be street legal at all times in the public areas of the hotel.
Q: How much is the event?
A: A full weekend pass to the event varies in price depending on when you register.  Please refer to the pricing page.
Q: How do I book a room? What if I don't want a room?
A: You do not have to book a hotel room to attend Winter Fire. You absolutely can commute from home, stay with a friend, or even get a room in another hotel. We think staying in the hotel is your best choice especially with the amazing room rate special the hotel has offered us of $179/night. Also remember, we only get the whole hotel by agreeing to fill the whole hotel. So please, take a room for all three nights and have a weekend you'll remember forever.
To book a room you must check off your room preference during online registration. You will be asked if you want a Double Double, or a King as available. Everyone staying in the hotel must take the room for Friday, Saturday AND Sunday night. If you do not want a room or will be staying with someone who has already requested a room, simply answer "no thanks". To extend your stay before or after the convention at the same rates, please write to Lonnie at hotelrooms@darkodyssey.com.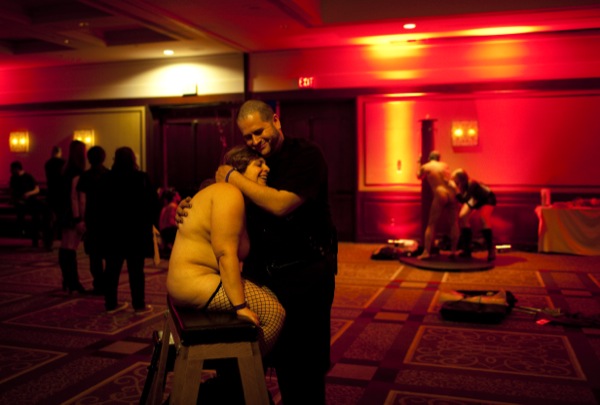 Q: How do I book a Suite?
A: There are very few suites in the hotel and chances are by the time you read this all of them will have been taken. However, if you are reading this on the first day or so of registration, you can request a suite in the host hotel by first registering for a standard room and then sending an email to hotelrooms@darkodyssey.com requesting an upgrade to a suite. Lonnie will then let you know if she has any available. While we understand this is a pain in the ass, we really only have a few suites and we are sure those that really want one wont mind the extra work.
Q: The Playspace is open until 3am? Really?!
A: Its true, its true! We have the space, the hotel is OK with it, so lets party late every night. We will be closing the space a little earlier on Sunday night so we can start tearing it all down, but this is Dark Odyssey and we expect you to play late and play hard!
Q: When do I get directions to the event?
A: At the beginning of February we will email you directions to the event along with more information about all our special events and workshops that you may participate in. Please make sure we have your current email address so you get all event notices timely. We do NOT send out a snail mail confirmation package. You can update your email address and other personal information in the Attendees Only Area by clicking on your "Virtual Badge".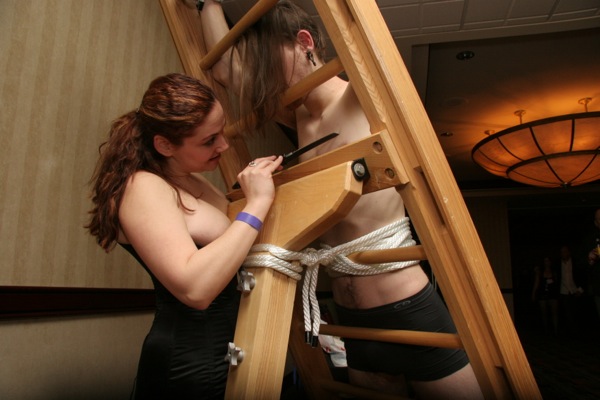 Q: Will there be Day Passes?
A: Each year we make the decision about offering day passes about three weeks before the event. If it looks like there is enough room, we will open up day passes. But we feel it's important to not overcrowd the event. When deciding to wait for day passes, please consider that a typical Saturday day pass is nearly the same price as a full registration at the early rates.
Q: I can't bring my camera?
A: We are sorry, but to ensure everyone's privacy we ask that you leave your camera at home. Also, now that everyone seems to have a cell phone with a camera, we can't allow you to use your cell phone in the play spaces, workshop rooms or classrooms and would really appreciate if you must use your cell phone that you go into the lobby or better still outside the hotel away from other attendees.
Hypnox, and several other official staff photographers will be on hand to capture those special moments. If you are willing to have your picture taken we will ask you to sign a model release during registration and you will then be identifiable to our staff photographers by the color wrist band you are given.
Q: I have more questions… I need more answers!
A: Then send us an email to info@darkodyssey.com and we will do our best to get you an answer as soon as possible. If you have a burning question that can't wait for email… or you type really poorly… call Greg at 510-206-0875.