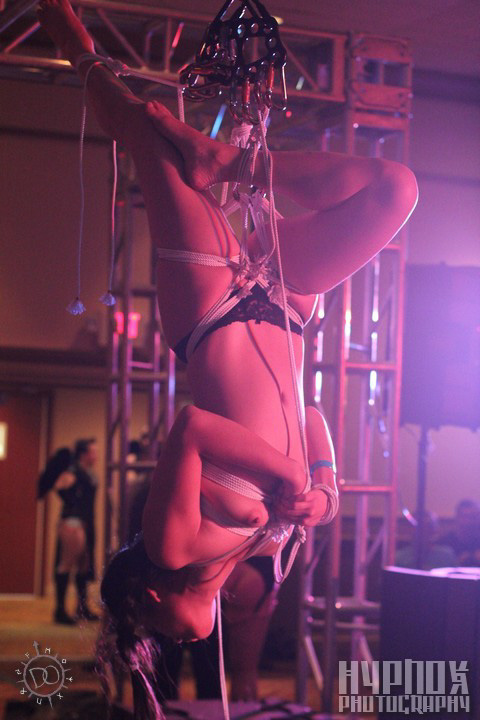 REGISTRATION & PRICING
Surrender is a weekend long, hotel based convention. Your registration fees include all our classes, workshops, special events, parties and access to the playspaces. Registration does NOT include accommodations or food. The convention will open Friday afternoon and run through Monday morning. You do NOT have to book a room at the hotel to attend the event. Many people commute each day and there is street parking, local lots, public transportation and onsite parking for $20/day. The Hotel is a proven scene friendly hotel located in downtown San Francisco on Van Ness Avenue.
Hotel Rooms
We will be taking all 20,000 square feet of ballroom space the hotel has to offer so there will be plenty of room for our workshops, special event and parties. As a nationally known hotel chain, they offer all the expected amenities including a roof top pool, gym, restaurant, bar, etc and almost 500 rooms. Unfortunately, with so many rooms we will not have the entire hotel, but our ballroom space is easily cordoned off from the rest of the hotel and we will have a great social area on the lower ballroom level in addition to our playspaces and classrooms.
Our block of 200 rooms are sold out. We are accepting requests for the waiting list should there be cancellations. When you register online, you will be asked if you would like to reserve a room and you may request to be added to the waiting list there. However, as we near the final days before the event you may need to make other arrangements or find a friend who already has a room.

Day Passes
Day Passes are confusing, problematic and basically a giant pain in the ass for everyone. However, we have been inundated with requests by many of you who can only make it for a portion of the event and we really want everyone to have an opportunity to experience at least a little of Dark Odyssey. So, we just can't say no.
Day passes are now available but you need to buy your tickets online as we do not allow in person registration. If you are planning on coming to 2 or more portions of the event, we strongly suggest you simply buy a full weekend pass as its probably cheaper and certainly easier for everyone. Day pass pricing is listed below.
Dark Odyssey:Surrender November 15–18, 2013
Participating Group
Standard
Weekend Pass (Friday-Monday) Full event pass to all classes, parties and special events all weekend
Late Registration - Through November 11st
$175
$185
Last Minute Registration - after November 11st
$185
$195
Full Day Passes (9:30am - 3:00am ... except Friday which begins at Noon)
Includes all Classes and Parties that day
Friday Full Day Pass
$75/day
$85/day
Saturday Full Day Pass
$100/day
$110/day
Sunday Full Day Pass
$100/day
$110/day
Party Only Passes (7pm - 3:00am)
Come Party with Us!
Friday Night Party Only
$50/night
$55/night
Saturday Night Party Only
$50/night
$55/night
Sunday Night Party Only
$50/night
$55/night
2 Night Party Pass (Your choice of nights)
$100
$110
Workshop Only Passes (9:30am - 6pm)
Take a class ... learn something!
Saturday or Sunday Workshops
$50/day
$55/day
2 Day Workshop Only Pass
$100
$110
Marketplace Only
Fri (1pm - 8pm), Sat (10am - 6pm), Sun (11 - 6pm)
Limited Passes available onsite
$10/day
$10/day
Merchandise
Dark Odyssey Pins
$5
$5
Cherry Pins
$5
$5
Water Bottle
$15
$15
T-Shirt (Small - XL)
$20
$20
T-Shirt (2XL - 4xL)
$25
$25
Host Hotel Rooms
We have 200 rooms blocked for the weekend and they are going to go fast. We strongly recommend getting a room for Friday, Saturday AND Sunday night as the dungeon is open late on Sunday night as well!!! There is another large convention in town the weekend of our event. Once our room block is filled the hotel room rate will be significantly higher. To book a room in the host hotel, you must take a 2 night minimum (Friday and Saturday). There is an additional $20/person/night for Triple and Quad occupancy. You will NOT be charged now for your hotel room. The hotel will charge you directly at the end of your stay, like any regular hotel stay.
SOLD OUT
Double Double
$139/Night + Taxes
$139/Night + Taxes
SOLD OUT
King
$139/Night + Taxes
$139/Night + Taxes
SOLD OUT
One Bedroom Parlor Suite
$589/Night + Taxes
$589/Night + Taxes
---
Notes:
All registration rates are per person.
Last day to cancel registration and receive a refund is November 1, 2013.
Cancellations are subject to a $35 handling fee per registrant.
Gift registrations become the property of the named registrant. Only the named registrant may cancel or transfer their registration.
There is transfer fee of either $35 or the difference between the current rate and original registration rate, whichever is greater.
Last day to transfer a registration is one week prior to the start of the event.
Hotel room rates are per room per night and will be billed directly by the hotel.
Hotel room reservation status will be listed in the Attendees Area.
We reserve the right to refuse service to anyone and cancel their registration. If we do cancel your registration you will receive a full refund.