DO I HAVE TO PEE OUTSIDE?
Camp is only as rough as you want it to be. The retreat has over 40 cabins each with electricity, well equipped bathrooms, hot running water and showers. There is a dining hall, theater, large pavilion, pool, and a host of other marvelous spaces for us to transform, including a huge gym that we turn into a spectacular dungeon. If you're looking to rough it a bit more, you can bring a tent and you will still have access to public bathrooms and showers. Regardless of if you are staying in a cabin or tenting, we recommend signing up for the camp's reliably tasty meal plan and give yourself one less thing to worry about packing and a whole lot more time to hit classes and the playspaces.
ACCOMMODATIONS
Sleep in one of 40 Cabins, tent or bring an RV
Meal Plan Option (breakfast, lunch& dinner)
Midnight Snack Included for Everyone
7 – 13 People per cabin
Large multi person bathrooms in each cabin
Form your own cabin group in the Community System
Electricity for hair dryers, vibrators and violet wands
Twin Beds with TempurPedic Mattresses (new in 2013!)
Porches – to hang out on and even decorate if you like!
Outdoor Watersports – Optional
Sex-O-Rama – our own short stay motel for those special moments
200 Acre Private Retreat Facilities
Huge Swimming Pool in the center of camp
Golf Cart Taxis – Just because they are fun to drive!
PLAYSPACES
Suspension in the trees, passionate embraces in the grass, and hot scenes in one of the best equipped dungeons you'll see anywhere, at Summer Camp you can let your erotic imagine go BIG. Our whole beautiful camp is your 200 acre playspace and you can do what you want, where you want.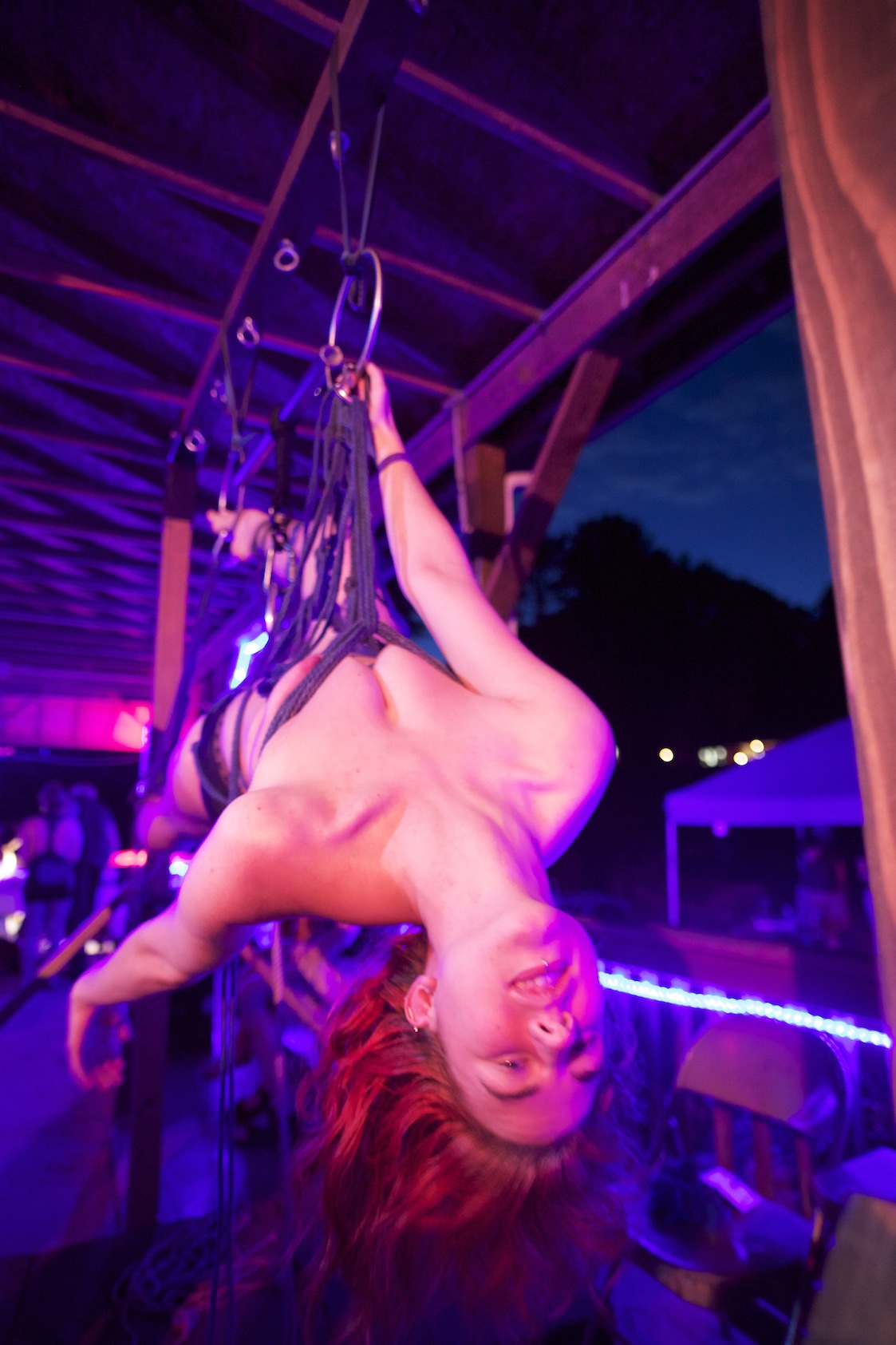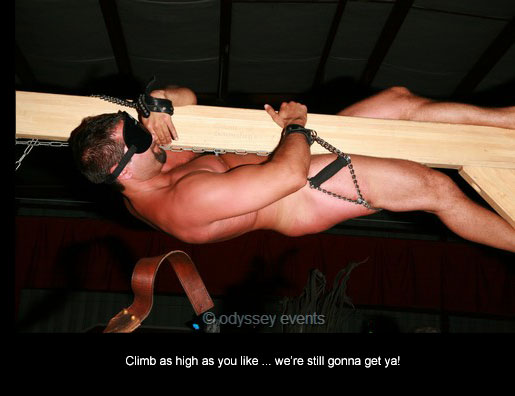 DUNGEON
Summer Camp's world-class main dungeon is filled with some of the finest equipment you'll find anywhere, horses, crosses, beams, tables, and of course our huge, fabulous truss. From medical, massage, and wax play, to interrogation, suspension, impact, and of course, bondage, if you can dream or dread it, you can do it here. Starting life out as a large gym, our ambiance crew transforms it into a vessel for your dark desires. Of course, it isn't enough to just have great equipment and setting, so we've also stocked the dungeon with tons of lube, chucks, paper towels, gloves, condoms, and other supplies to make your play run smooth and slippery. Our Playspace Monitors will be on hand to answer your questions and make sure everyone is safe and having fun.
Outside the main dungeon on the tennis courts is our new outdoor playspace. Filled with weather resistant play equipment and you can enjoy it all day or all night long. We've even got fancy LED and rope lights so you can see what you're doing after the sun has set.
The Pavilion is our multi purpose space that is great for mixers, special events, theme parties and more. When there is nothing scheduled the space is open for play and always has a great variety of crosses, bondage tables and other equipment to help you get your kink on.
SEX-O-RAMA
Welcome to the den of sensual and sexual hedonism, hailed across the US and beyond as being THE place to come to cum- Sex-O-Rama. We supply the beds, sheets, electricity, condoms, lube, and gloves, you bring the sex toys, creativity, and heat! Outside of classes and special events, SexO-Rama will be open and available for use around the clock. Think of it as your very own short-stay motel, anonymous sex club, or whatever you dream it to be. Feel free to make a bee-line straight for your favorite sling, or wander the complex, being a respectful voyeur from a distance (unless explicitly invited to join in the fun).
TEMPLE OF LOVE, SEX, & TRANSFORMATION
A place where we can explore the balance of our own passions and experience the transformative forces they bring, as we seek new a understanding of ourselves and our desires. The Temple is the site of many of the rituals, ordeals, and spiritual workshops throughout the week, as well as a beautiful and sacred playspace. Everyone is encourage to masturbate, play, or make love in the Temple space as a sacred offering, as well as attend the wide range of activities held there.
ION LABORATORY
Ions are camper created workshops, parties, special events, etc. They are your way to jump in and help us build an amazing adventure. The ION Laboratory is a new space we have reserved for these activities. Check our fetlife group for our call for IONs or contact programming@darkodyssey.com for more information.
MIDNIGHT SNACK
Often considered the "Best Meal of the Day", Midnight Snack happens each night at 12:30 for everyone at camp … meal plan or not. It's a great time to recharge your batteries, grab a snack and find your late night play date. The snack is prepared by Diva and her crew and they are always amazing!
TAXI SERVICE
Sometimes you just don't want to walk! Although everything at camp is within walking distance and we encourage you to embrace the great outdoors, we'll also have a taxi service for campers throughout the weekend. Look for golf carts marked TAXI and hail one just like in the big city! But if you see an unmarked golf cart, that's a staff member doing something important, so please wait for a marked one! If you're going about your camp business in the buff (and we hope you are) please bring a towel to put down on the seat, and remember, taxi driving is a volunteer duty, so drivers should drive with caution and campers ride at their own risk.
LABYRINTH
Built as a memorial, the the Labyrinth is a place for reflection, meditation, and spiritual seeking. Many use this beautiful space it as a calm place where one can escape the frenzied excitement that is camp for a while. Out of respect for that purpose, we ask that the Labyrinth be considered a no-play zone.
THE SUMMER CAMP EXPERIENCE
The Summer Camp experience centers around meeting others in the scene and making new friends. Our group cabins and meal times let you spend quality time with the other attendees. Once you register you can join one of our existing themed cabin groups or start your own for your "family" or club in our attendees only area. We recommend you take the meal plan so all your meals are included over the course of the weekend including breakfast, lunch, dinner. But even if you decide to cook your own meals everyone is invited to break bread … er eat corn fritters together at midnight snack.
CABIN DECORATING
While not a requirement, most campers have a great time decorating their cabins or tent cities. They bring Xmas lights, kiddie pools, pavillion tents, blenders, boom boxes and even blow up dolls. This is your home for the week and everyone has a blast making it cozy.
CAMP CHORES
In order to hold costs down and make camp run as smoothly as possible, it is necessary for all attendees to put in few hours of help around the camp during the course of the weekend. The chores are usually very simple (working at registration, watching the front gate, serving the midnight snack, driving a golf cart, etc), and often don't last the full time. Besides, they are a great way to meet new people. A "resort option" is available that allows you to opt out of the 4 hours of chores for $50. Most people do not take this option, but it is available to you.