FAQ
FREQUENTLY ASKED QUESTIONS
Below we have tried to answer the questions we hear most often. If you need more information about something that isn't listed on the web site, please write info@darkodyssey.com and we will do our best to get right back to you.
Q: How do I get to DO:Fusion?
A: Fusion is located just above Baltimore in Northern Maryland right off of I-95. It's 2 hours north of DC and 4 hours south of New York City. After you register, you will receive an email with all travel options, directions, things to bring, etc. If you are flying to Fusion, the closest airport is BWI in Maryland.
Q: What is the Meal Plan like? Will there be vegetarian meals?
A: The food on the Meal Plan is really quite good. All meals will be served in the dining hall along with iced tea, juices, teas and coffee. This is an adult camp with adult cuisine… there will be no pizza squares or PB&J. A full salad bar and vegetarian entree will be available at each meal. The first meal will be dinner Wednesday night followed by a midnight snack. Breakfast, lunch, dinner and midnight snacks will be served each day afterwards. Brunch will be the only meal served on Monday.
Q: What if I am not on the meal plan?
A: The camp is not an ideal place to prepare your own meals. There arent any dedicated cooking facilites or dish washing facilities. You will have to bring in your own food, portable grill, coolers, etc. There is ice available for sale on site. Cooking your own meals can actually quite fun if you join with several other campers and split up the meals that need to be prepared. Just remember that all BBQ's need to be placed safely away from the wooden cabins and your food needs to sealed up tight in coolers in order to keep the little wild creatures from raiding your supplies.
Q: What are the beds like?
A: If you take the cabin bed option you will not be roughing it. All cabins have Tempurpedic Matresses and metal bed frames that were delivered for the 2013 season.  Lots of couples like to push two beds together and use a king sized sheet to create one large bed (try flannel sheets; even in summer the nights can get chilly).  We encourage creativity! You DO need to bring your own linens and blankets, or you can rent them from us for an additional $35.  (Since the beds all have a heavy vinyl cover for sanitary reasons, we highly recommend you bring a mattress pad as well … its just makes everything feel better.)
Q: What are the cabins like?
A: There are different types of cabins throughout camp, and they house anywhere from 7-13 people. Each cabin has one or more bathrooms which are shared by all cabin-mates. Each bathroom has several toilets in private stalls and several showers also in private stalls. All cabins and all bathrooms are all-gender all the time, (unless, of course, you create a single-gender cabin through the community system). Some cabins share a roof, others share a common entrance or bathroom between them. There is fluorescent lighting and plenty of electrical outlets. While there aren't any private cabins, we do have a few private rooms in what used to be the camp infirmary. This building has a series of small rooms that sleep 2. If you require privacy, we may be able to accommodate you. There is limited availability and a $50 charge for these rooms. Emailregistrar@darkodyssey.com for more information.
Q: I'm going to tent! What should I expect?
A: Most people set up along the tree lines around camp. There are several nice fields where you can build your own small city. You will have unlimited access to the two large public bath houses at camp. There are also bathrooms located next to the pool. If we end up with a large crowd we will bring in several port-a-johns that will be cleaned daily. Of course, if you make friends with one of the cabin groups you may ask to use their bathrooms, but don't assume that because you pitched a tent next to a cabin you can use their facilities. Please respect people's privacy.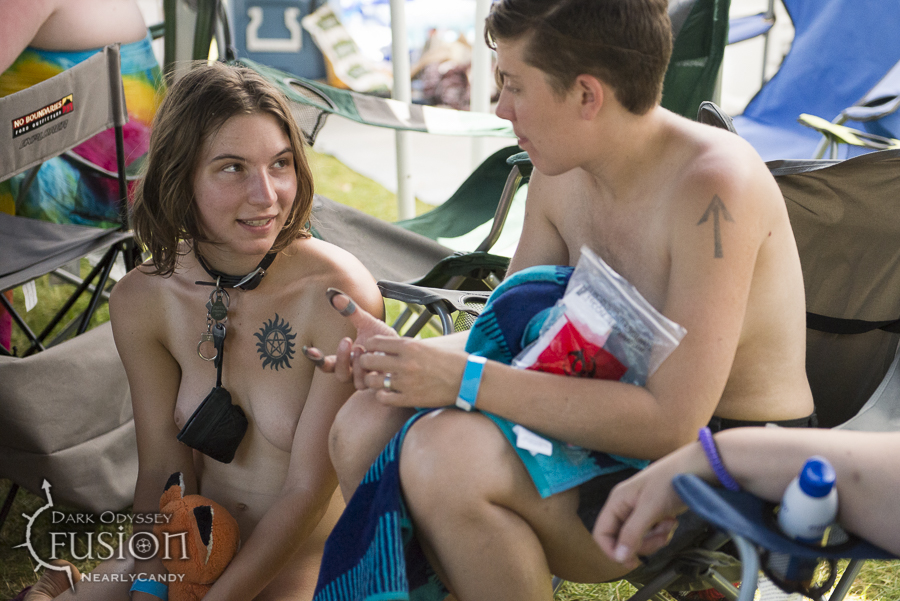 Q: Can I bring the kids?
A: If they're over 19, sure!
Q: Once I register, how do I create a cabin for all my friends, or find a cabin I can join to make new ones?
A: Log onto the Community System, and click on Invites, then Cabins. There, you will see public invitations to join cabins posted by other campers as well as any private ones. We do accept applications for new cabin groups as there is always some change each year.  If you would like to host a cabin group write to Greg@darkodyssey.com and ask about hosting your own cabin group!
Q: What's the deal with camp chores?
A: We ask that everyone sign up for 4 hours of community service (2 – two hour chores). We have all sorts of jobs so we won't ask you to do anything that you physically can't. Examples of chores include: gate duty, working the registration desk, driving a golf cart, dungeon monitoring, tiki torch refilling, replenishing supplies, and decorating for special events. Most people enjoy doing chores because it lets them meet new people. If you prefer, a "resort option" is available that allows you to opt out of chores for $50. Most people do not take this option, but it is available to you.
Q: I can't bring my camera!?
A: Unfortunately, to ensure everyone's security and comfort, we do not allow attendees to carry photographic equipment. We will have at least two professional photographers attending Fusion who will be happy to take your picture. Model releases are mandatory and details are available when you register. Of course you can choose not to photographed – you'll receive a special colored wrist band so the photographers know. We take our photographic policy seriously. Please help keep everyone comfortable by not bringing your camera.
Q:I have more questions… I need more answers?
A: Then send us an email to info@darkodyssey.com and we will do our best to get you an answer as soon as possible. If you have a burning question that can't wait for email… or you type really poorly… call Greg at 510-206-0875 … yes he actually answers the phone and is on west coast time so don't call too early.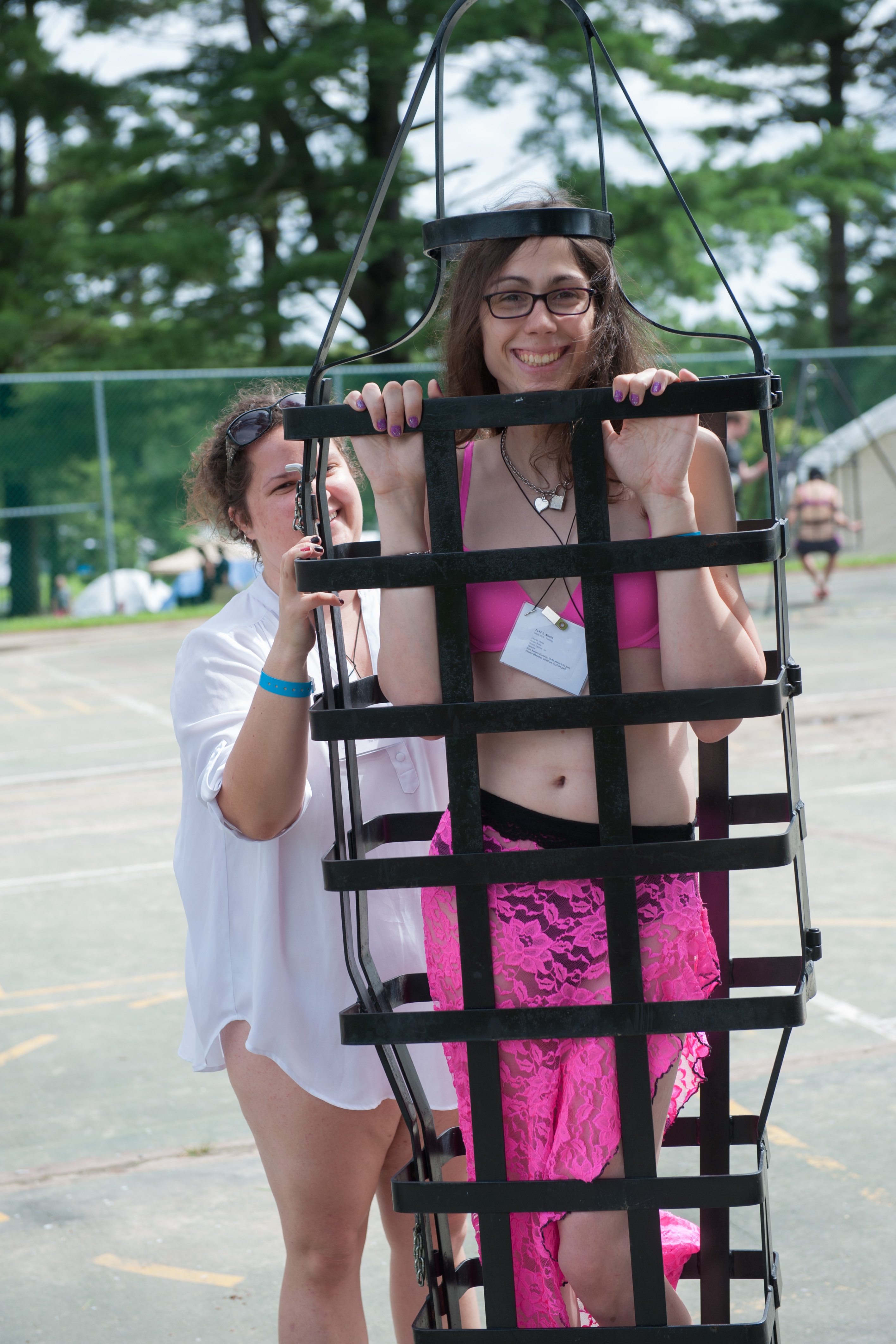 Q: Will there be food vendors
A: Yes, we have opened our own InFusion Cafe complete with a real esspresso machine and full spread of delicious sandwiches and other snacks. Vegetarian sandwiches are also available. So if you dont bring your own, and you aren't on the meal plan, you wont go hungry.
Q: Do I need a date?
A: No! There are lots of singles who come to Fusion. Each evening we hold a theme event giving you plenty of opportunities to find others who are looking for a play date or perhaps even that special someone. Some nights we light a huge bonfire and you can rediscover the lost art of making S'mores (a grahm cracker sandwhich of hershey's chocholate and toasted marshmellows), dance naked around the flames or just hang out and have a beer. We'll have ice breakers, dance parties, and the ever popular "slave auctions" where you can offer up your services as either a bottom or a top.
Q: What's the Midnight Snack I heard about?
A: Often considered the "Best Meal of the Day", Midnight Snack happens each night at 12:30 for everyone at camp … meal plan or not. It's a great time to recharge your batteries, grab a snack and find your late night play date. The snack is prepared by Diva and her crew and they are always amazing!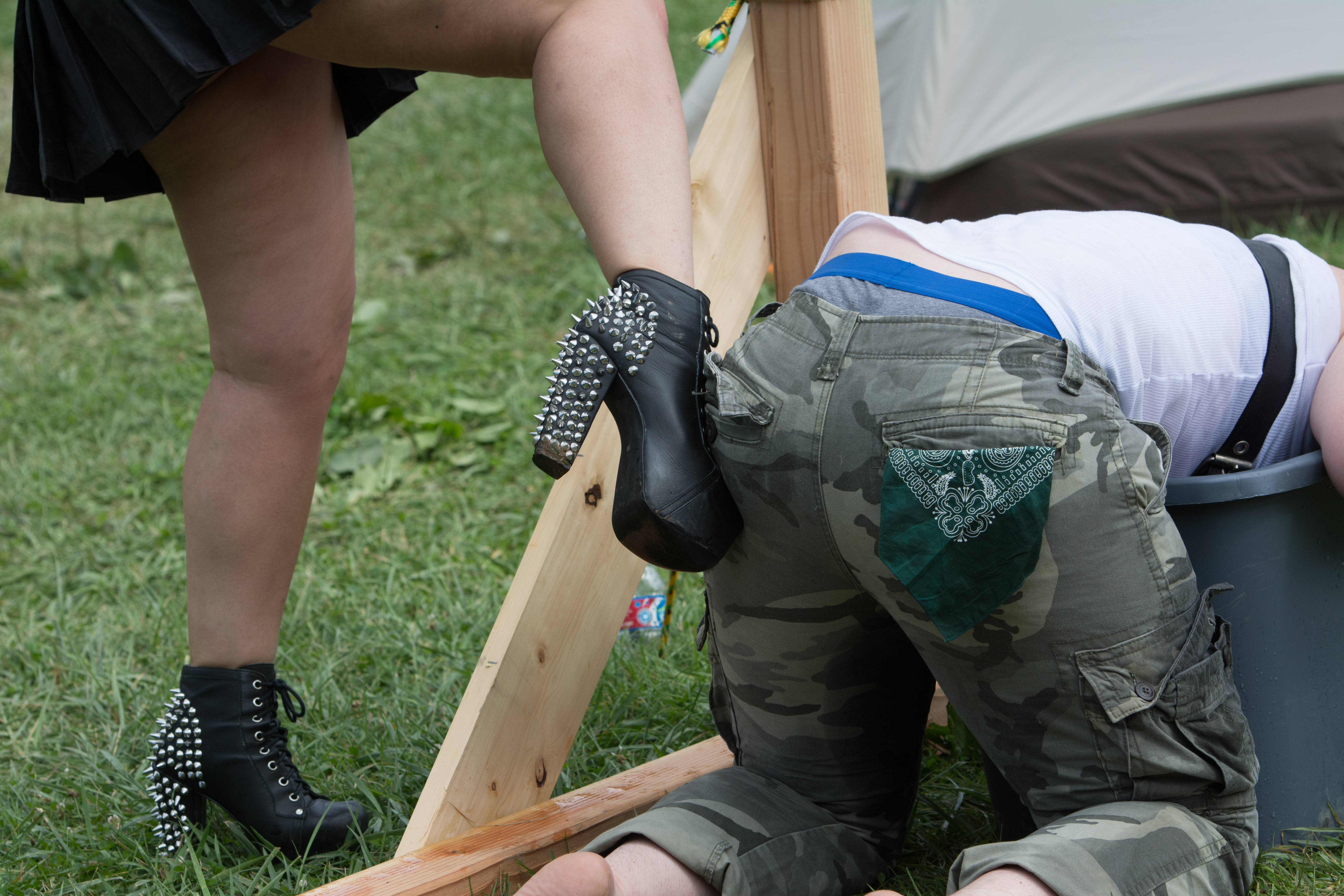 Q: I have an awesome RV ... can I bring it.
A: Sure, you can bring your RV. We have room for about 15 RVs. Here is the bad news … there are no hook-ups available so you will have to be completely self contained. You will be able to use the bathroom and shower facilities so this shouldn't be too much of a problem. There are only 15 slots available so you MUST reserve a space during registration ($150 fee) in order to bring your RV.
Q: What's the dress code?
A: There is no dress code! The camp is isolated and there will be a guard at the gate, so you can wear your favorite cat suit or just a layer of SPF 45 sunblock. (Genitals must be covered at mealtimes.) Most people do bring some fancy fetish clothing to dress up at night. We also have a few "dress-up" events during the course of the event that let you show off your wardrobe. We'll let you know what all the theme nights are before camp. Most people drive in … and pack almost everything they own.
Q: I've heard that there are participating group discounts. How do I get one?
A: Participating Group discounts are available to members of eligible sex positive and BDSM educational organizations. Visit our Participating Groups page for more information. If your group is not listed, but you think it qualifies, please contact info@darkodyssey.com.
Q: What if it rains?
A: You'll dry off! All the playspaces are indoors. The camp has many covered areas in which to hold all of our special activities. While we would prefer the sun to shine through the weekend, we still have a great time if it rains. Sorry, but there will be no refunds due to inclement weather.
Q: What if I have to cancel?
A: There is a $50 cancellation or transfer fee, per person, if you cancel or transfer prior to the cancellation date listed on the pricing page of the website. (Typically around June 1st.) Due to our obligation to the Retreat facilities, no refunds will be allowed after that date. Registrations are transferrable by the person named in the registration.  Please be aware that all gift registrations become the property of the named registrant and may only be cancelled or transferred by the named registrant. If you are uncomfortable with this, please register by yourself.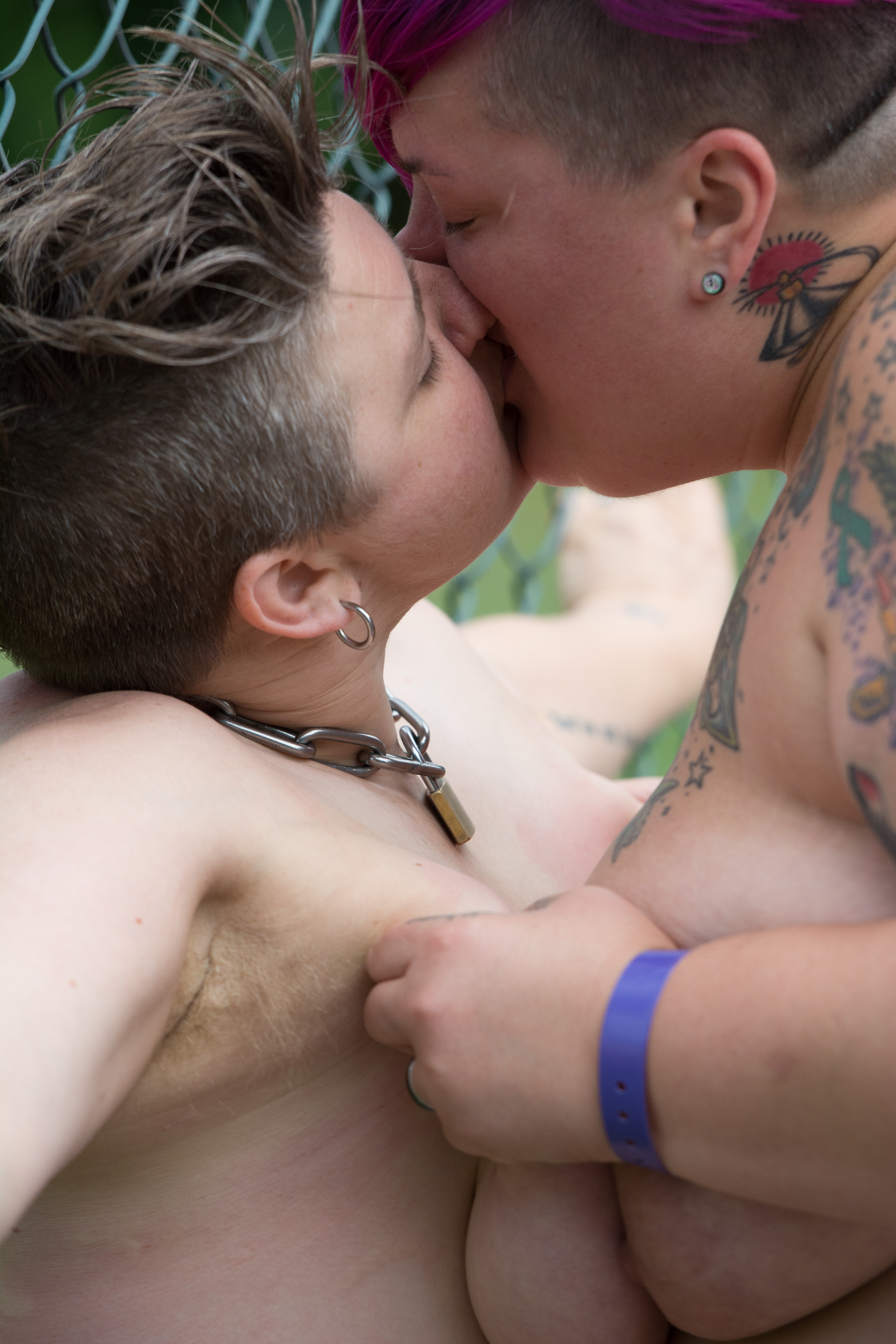 Q: Will there be a way to hook up my notebook computer to the internet?
A: You should stay home. Actually, we now have wireless internet service available in the dining hall. There is no charge for internet access … so if you have to do email or "work" while at camp, you can.
Q: What should I pack?
A: Below is a list of items you might want to bring with you to Fusion:
Cabin Stuff:
Linens: Sheets, Pillow, Pillow Case, Blanket
Towels, Washcloths<
Extra Blankets
christmas lights [for mood lighting]
small cooler
coffee maker, coffee supplies
Cabin Decorations
Extension Cords
Fan
Flashlight (one for each person)
portable lawn chairs
snacks, airtight Tupperware containers
air mattress
alarm clock
radio
Poolside:
Beach towel (for the pool)
Bathing suit (very optional!)
Sunscreen
Bug repellent spray
Sunglasses
Personal:
driver's license or other ID
cash [there will be vending!]
hair dryer
sleeping mask and earplugs
toiletries
contact lens stuff
prescription medications
allergy medication
Tylenol/Advil/aspirin
Pepto-Bismol or equivalent
tissues
General Clothing:
raincoats and umbrellas
jean, sweaters, warm clothes
slippers, sandals, robe
baseball hat or other hat
fetishwear
Sneakers or other comfortable shoes
walking boots
Toys and Stuff:
toy bag
sex toys
lube
gloves
condoms
Kites, Frisbees, Balls, Games
Here are some examples of things you can NOT bring: cameras (see next question), refrigerators, air conditioners, and hotplates.